We are a creative studio that skilfully disrupts the expected scope of textile art. Being most identifiable by our statement pin and thread drawings; our work encompasses large-scale wall installations, live event art and smaller framed pieces for interiors. 
Our studio, Debbie Smyth Art, a family run contemporary textiles practice, comprises of work and life partners, Debbie & Zac. The 3rd member of the team, their son Rigby, joined them in 2019. His making skills may be limited but his hammering work is improving. His main influence on the team is being their motivation.
Debbie from Ireland, and Zac from England, met whilst studying in Wales; Debbie textiles and Zac photography. Following graduation, Debbie went on to set up her own studio practice whilst Zac pursued a career in photography and interiors. They both grew acclaimed in their own fields individually, but found they were partnering more and more as time went on. The scale and magnitude of the projects grew and their practices consistently overlapped. The studio naturally evolved and developed from this collaborative approach. Their partnership enabled them to undertake much more complex and diverse projects and branch out internationally.
This marked the beginning of DEBBIE SMYTH ART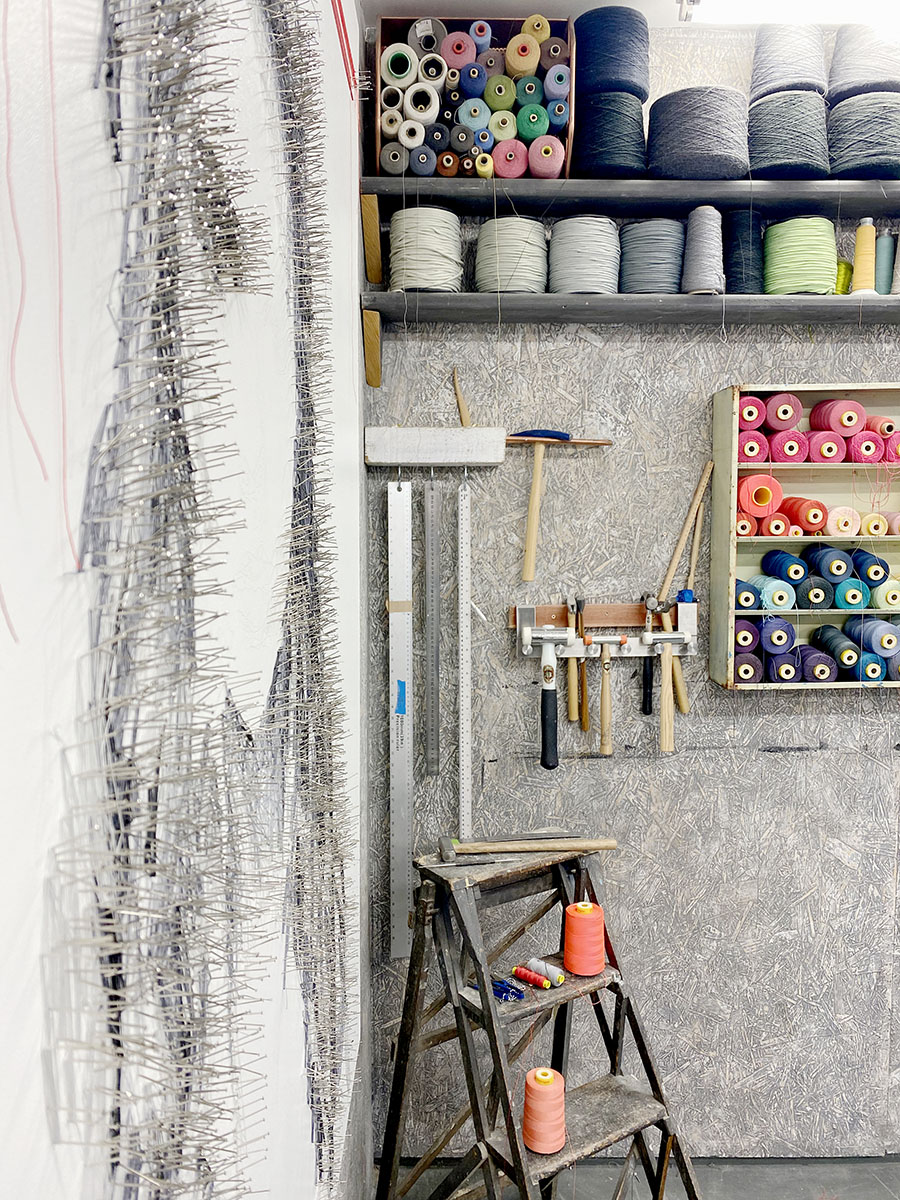 We as a studio, have a wealth of experience in creating wonder and joy with our unique installations. Captivating viewers with an unexpected and unorthodox application of traditional materials. Our recognisable and intricate nail and thread work, beautifully blurs the boundaries between fine drawings, illustration, photorealism and embroidery.
The drawn line is lifted into 3 dimensional space, with the characteristics of thread celebrated – at times taut and defined, elsewhere knotted and fraying. The process is very material led. We look at thread as a drawing medium; how the thread falls or knots, often dictates the next step.
A multitude of pins, tacks and nails are used in their masses to create undulating patterns, complex shading and stippled terrains and topologies.
These playful yet sophisticated contemporary artworks spark inquisitiveness in an audience. The dialogue that takes place between the dense areas and the open voids, captures the imagination. Harnessing the nostalgia and familiarity of textiles; our work has the ability to form connections and articulates a deeper narrative.
We create tactile surface patterns like no other; mastering this craft at monumental scale and creating unforgettable art that will mesmerise.
Making the ordinary, extraordinary.